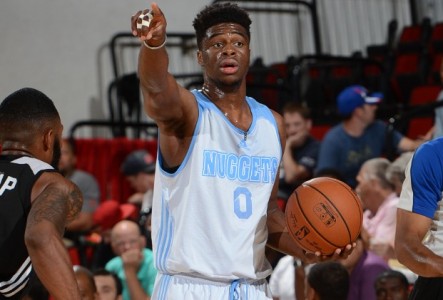 Fast-forward six years later since Lawson was drafted, it is possible the Nuggets have really found that needed point guard. His name is Emmanuel Mudiay. Drafted as the 18th pick in the 2009 NBA Draft, the Minnesota Timberwolves sent the rights of Ty Lawson to the Denver Nuggets giving the Nuggets hope they had found their future point guard.
The now disgruntled point guard had been arrested multiple times for a DUI and missed multiple team practices, leading to a trade with the Houston Rockets. Now it is time for Mudiay.
With great hope comes great sacrifice. The 19-year old Mudiay has known flaws to his game, but none more significant than the ability to score. He can fine-tune his craft at the next level while developing consistency game-in and game-out at the NBA level. Mudiay's raw talent and ability to finish at the rim with reckless abandon can make him unstoppable, but what will open doors for him as a scorer will be his pass-first, unselfish mentality. Different than Lawson, Mudiay has a floor general makeup to be a great point guard. His journey to the NBA maybe what has shaped him to be the point leader basketball geniuses expect of him.
He lost his father in 1998 causing his two older brothers to take more of a fatherly role to Mudiay. He would later commit to play basketball at SMU, but changed his mind to play overseas in China due to NCAA allegations against the university. In China he excelled playing with professionals and caught the eye of many NBA pro teams. Having the seventh of seven lottery-defined picks in the June 2015 draft, the Nuggets moved quickly when Mudiay was still available.
In a recent article in the Denver Post, new Nuggets head coach Mike Malone gave glowing praise to Mudiay. Malone said about Mudiay, "This is your team," but Malone needs to be cautious in his praise of the young rookie because to avoid premature statements before Mudiay begins to prove himself. Plus, crowning Mudiay too early could cause dissension on the team with veterans, especially Kenneth Faried. With Wilson Chandler recently signing a contact extension wrote a letter on his Instagram stating how committed he was to the organization and how this was his decision. This bodes well in helping to align veterans with the budding rookie. With other key in-house players locked up for the next few years, it paves the way for Mudiay's growth on the team.
Mudiay's skillset was in full display during the four games in annual Summer League play, largely intended for newly drafted rookies and first-year veterans. He averaged 12.0 points, 3.5 rebounds, 5.6 assists, while shooting 38 percent form the field. Comparisons to all-star point guard, John Wall of the Washington Wizards are accurate, but for Mudiay to live up to the expectations, he must continue to practice the pick-and-roll and determine when to attack the basket. Playing at altitude in Denver could be a match made in heaven for Malone and Mudiay.
The best way for Mudiay to develop his point production will be in open floor fast break situations. One underrated part of Mudiay's game is his defense. If Malone can establish the right identity for the Nuggets, which is to play great defense and run teams out of the building, Nuggets can be looking at a team with something special. This will not happen overnight. Just like any transition, this will take time. How much time remains to be seen. But with Mudiay and his developed maturity today at 19, the Nuggets can look past the Lawson years with greater hope and conviction.
Cameron Parker
Cameron is passionate about sports of all kinds, especially local. He's a convergent Journalism major at Metropolitan State University of Denver with a minor in Digital Media. He's a Co-Host for the KMet Sports Show and a Co-Host for KMet NFL Stampede on KMetRadio.org. He's also a reporter for the Emmy-award winning Student-run newscat, The Met Report. He was an intern for Lincoln Financial Media in support of radio stations 104.3 The Fan, 98.5 KYGO and KS 107.5.